Enterprise class email for business
SmarterMail brings you enterprise-class email that beats Microsoft Exchange, in functionality, security, and cost!
The SmarterMail service means you can get as many mailboxes and domains as you need for a fraction of the cost of the Google & Microsoft alternatives.
Key Features
Fully Brandable Webmail
POP3 / IMAP / SMTP
Exchange Web Services MAPI/EWS
Exchange ActiveSync (EAS)
Shared Tasks
Shared Calendars
Shared Notes
Reporting
Maling Lists
Email Forwarders
Auto Responders
Mobile Friendly
Free Migration
Free Backups
24/7 Dedicated Support
Management Included
Our professional email hosting is packed full of features and support so you have one less thing to worry about.
The Exchange Alternative
SmarterMail offers all of the same features like Microsoft Exchange, but at a FRACTION of the cost. Unlike Exchange, features like audio and video group chat, and Team Workspaces for team meetings and group collaboration are included at no extra charge.
An Ideal Email Solution
SmarterMail is a full-featured email, group chat, and team collaboration server that is the perfect alternative to Microsoft Exchange. It's designed to provide the functionality businesses need.
On the Web or In Your Hand
SmarterMail includes one of the most powerful browser-based webmail clients on the market. Compatible with all major desktop and mobile web browsers, using the webmail client eliminates the need for other email software. But, you can still use your preferred email software if you want to.
Total Collaboration
SmarterMail offers a number of collaboration features that make it easy to work together with team members, customers and partners. Whether using SmarterMail's webmail client or a favorite desktop or mobile client.
Industry Standard Security
SmarterMail comes equipped with several email security features that are available without spending more money or adding third-party software. This includes industry-standard spam filtering and enterprise-level antivirus for detecting trojans, viruses, malware, and other malicious threats.
Simple Administration
With an extremely simple setup and migration process, getting your email up and running takes minutes. From there, SmarterMail offers domain administrators a number of administration tools to help keep things running smoothly.
Your business already has a lot on its plate, don't let your email be one of them. Our business email plans offer all of the features you need at an affordable price.
Email is a central part of many businesses today, and we fully understand how important it can be. As a result, we offer free migrations to move your email over to us, free backups to keep your data safe, plus we will manage your account to ensure it runs smoothly at all times.
Why choose us?
30 Day Money Back

We offer a no-fuss 30 day money back guarantee on our hosting packages. At QuickHostUK your satisfaction is our priority.

Secure UK Based Hosting

We own and operate our own data centre in High Wycombe, Buckinghamshire where we host dedicated, cloud, and colocated customers.

Unrivalled 24/7 Support

Our 24/7 dedicated support provides response times of just minutes not hours like some providers.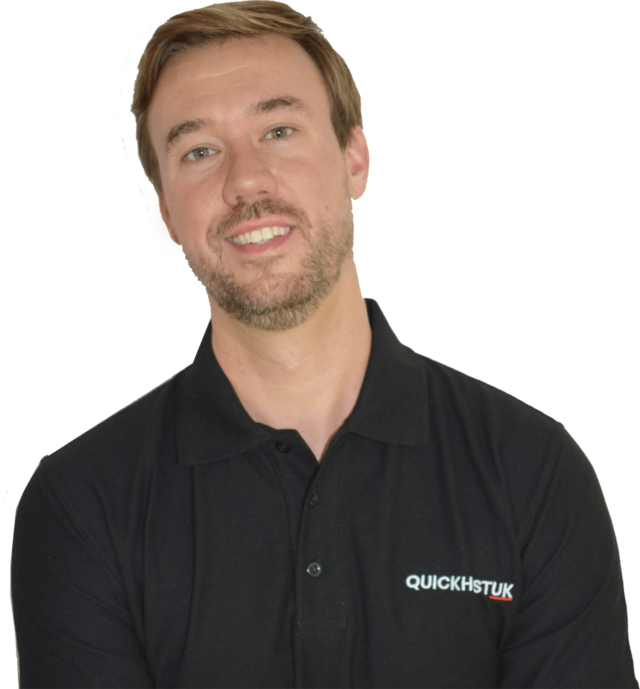 SmarterMail includes one of the most powerful browser-based webmail clients on the market. Compatible with all major desktop and mobile web browsers, using the webmail client eliminates the necessity of any other software, from email clients to calendar apps, freeing up disk space and eliminating the maintenance tasks that come from having more software installed on people's laptops and personal computers.
If desktop and mobile email apps are needed, SmarterMail can handle those as well: From native Microsoft Outlook compatibility to integration with most other desktop email clients such as Apple Mail, Mozilla Thunderbird, eM Client, Windows Mail, and more.
In addition, SmarterMail works perfectly on mobile email clients and applications such as Apple's iOS email client, calendar and notes applications, Samsung's mail and calendaring apps, Mobile Outlook, the Gmail mobile client, and more.
Our two focusses are providing you with the technology you need and customer service.
That's why we drive excellence into our customer service and our hosting solutions. We understand our clients and their expectations to ensure we over deliver, everytime.
More about us
Will I lose my existing email if I move?
No, you can use our built-in migration wizard to move your email over to us, or, one of our migration experts can move your email over to us at a time to suit you.
Are there any email sending limits?
By default, there are some email-sending limits:
1000 mail per hour
100 MB bandwidth per hour
50 bounces per hour
These sending limits can be removed by purchasing the MailGate Incoming & Outgoing Bundle during the checkout.
Can I use this service for email marketing?
No, we do not allow bulk mailing on this service to safeguard our business email platform. Please contact us for information regarding our bulk email services.
How do I use Microsoft Exchange Mailboxes with ActiveSync?
Microsoft Exchange Mailboxes with Exchange ActiveSync are optional extras. To take advantage of these features, you can select how many Microsoft Exchange Mailboxes you require under the Configurable Options section of the checkout. You can also upgrade/downgrade anytime.